Somali Speakers Urged to Download NHS Covid-19 App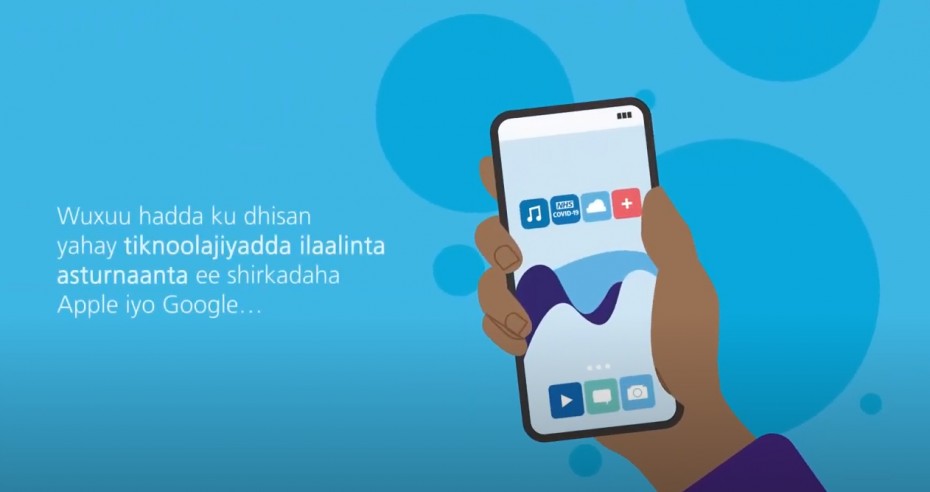 Somali has been added to the NHS COVID-19 app, as the number of languages available increases to twelve to increase accessibility.
The app, which has now been downloaded over 16 million times across England and Wales, forms a central part of the NHS Test and Trace service in England and the NHS Wales Test, Trace, Protect programme - identifying contacts of those who have tested positive for coronavirus.
The contact tracing element of the app works by using low-energy Bluetooth to log the amount of time you spend near other app users, and the distance between you, so it can alert you if someone you have been close to later tests positive for COVID-19 – even if you don't know each other.
The app will advise you to self-isolate if you have been in close contact with a confirmed case. It will also enable you to check symptoms, book a free test if needed and get your test results.
The app has been designed with user privacy in mind, so it tracks the virus not people, and uses the latest in data security technology to protect privacy. The system generates a random ID for an individual's device, which can be exchanged between devices via Bluetooth (not GPS). These unique random IDs regenerate frequently to add an extra layer of security and preserve anonymity.
The app does not hold personal information such as your name, address or date of birth, and only requires the first half of your postcode to ensure local outbreaks can be managed. No personal data is shared with the government or the NHS.
Dido Harding, Executive Chair of England's NHS Test and Trace Programme, said:
"We want to make it as easy as possible for everyone to engage with England's NHS Test and Trace service. Making the app available in Somali is a great step to increase accessibility.
"I encourage everyone who can to download the app, to help prevent further spread of the virus."
Simon Thompson, Managing Director of the NHS COVID-19 App, said:
"It's great news that the app is now available in Somali. It's our aim to get as many people across England and Wales using the app and to make it as accessible as possible.
"I urge anyone who hasn't downloaded it already to do so - the more people who use it, the better it works."
The NHS Test and Trace team behind the app has worked closely with major tech companies, including Google and Apple, scientists within the Alan Turing Institute and Oxford University, Zuhlke Engineering, medical experts, privacy groups, at-risk communities and teams in countries across the world using similar apps – such as Germany, to develop an app that is safe, simple and secure.
As well as contact tracing the app has a range of additional, enhanced features that will help to reduce personal and public risk from COVID-19 as part of the wider testing and contact tracing service:
Alert: letting users know the level of coronavirus risk in their postcode district
QR check-in: enabling users to check-in at a venue and alerting them if they have recently visited somewhere they may have come into contact with someone who later tests positive for COVID-19
Symptoms: allowing users to check if they have coronavirus symptoms and see if they need to order a free test
Test: helping users book a free test through the app and get results to know whether they have COVID-19
Isolate: if a user is told to self-isolate, a timer feature will help count down that period and access will be provided to relevant advice
For more information on the NHS COVID-19 app, visit https://covid19.nhs.uk/introducing-the-app-somali.html