Youth Employment Strategy Programme - Feb 2023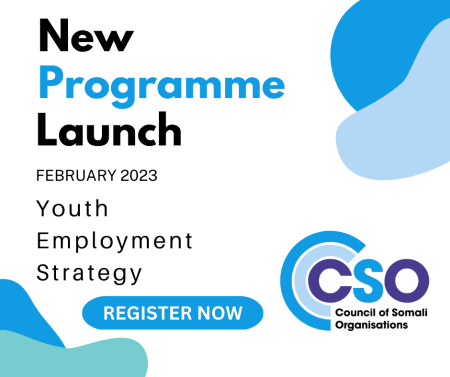 The aim of the programme is to build a closer working relationship between Somali led CVO's and the Somali Community, Employers, Job Centres, Training Providers, Colleges, other NGO's and Local Authorities who are involved in the development of Youth Employment Partnerships and Strategies in the UK.
We will select 11 CSO member organisations from across the London areas with significant Somali communities in the UK and work with them to help build their capacity and develop their youth and employment strategies and policies.
The first cohort of this ran from July to December 2022 and has been very successful.
If you are interested in your organisation taking part in this programme please complete the short expression of interest form at the link below and we will be in touch in the New Year.
CSO Youth Employment Strategy Programme - Expression of Interest Form